behind lesong hotel story & projects
For us, the region of Munduk truly is a paradise. And it is our mission to save and treasure it. With the Lesong Hotel Project we intend to create a portal for travellers to discover its marvels. At the same time we support and encourage our local friends to recognize the beauty of nature surrounding us here and to take care of it.

he Lesong Hotel is a meeting point of cultures. We create a space for people from all over the world to get in touch with the welcoming and ever curios local population. We're convinced that such an intercultural exchange is very worthwhile for both sides. And there is a lot to learn, be it technically, socially or spiritually. At the same time, exchange encourages us to reflect on our own beliefs and behaviour. So in the end, the combination of wisdoms may be even more valuable than the sum of its parts.

The Lesong Hotel Project brings a kind of tourism to the Munduk Area which is ecologically, socially and culturally compatible. We will use a part of our revenues to promote sustainable development in the Region.
We see a huge potential in the combination of European and Indonesian know-how. A precise knowledge of the needs of western tourists and a different perception of quality will allow us to provide better services to you. At the same time the local roots and the local management will make sure our project grows in harmony with the local population, in such a way that the project is a benefit for the whole village. Through professional staff training and responsible management we provide not only the highest quality of care for our guests, but endevour to create a safe,healthy and enjoyable work environment for our employees.
We are starting small in order to grow organically. With four rooms and a restaurant, we are now available for bookings and excited to be finally open. We look forward to welcoming you into Lesong Hotel.
trusted hotel in north bali
We have earned this reputation through our commitment to providing exceptional service and ensuring our guests have an unforgettable experience..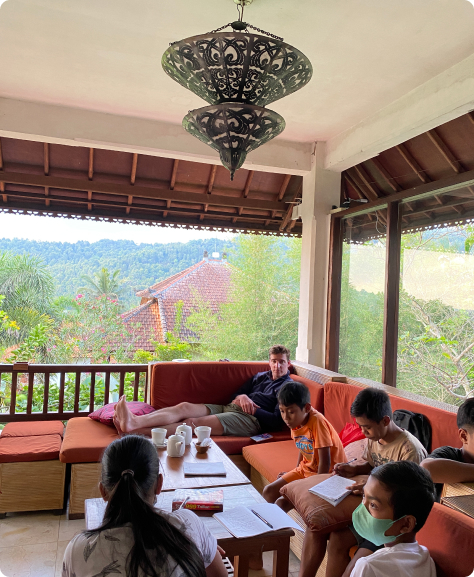 Relish the authentic gateway in your second home at Bali in the middle of infinity rice terrace at the mountain slopes of Munduk.
As a small accommodation we are extremely feeling deep pleasure of our commitment we have made to this beautiful planet, finding the importance to make steady measured progress of our efforts to safeguard our environment through consistent water conservation, energy efficiency, waste reduction and clear air practices. 
We also grow a wide variety of tropical fruits, vegetables and flowers in our yard. We are practicing sustainable agriculture on the plantation and our restaurant offers the organic Bali meal experience as much as possible who cooked with a family love. 
Our environmental initiatives include to merely using cultivable wood materials and minimize as much as possible the used of wood from the forests at Indonesia  in our build construction, organic linens and cleaning supplies, recycling and composting programs, and natural heating and energy sources.
 Our small step on water conservation and energy efficiency is to use solar panel to provide hot water to every each room. The intensity of sunshine is the important key on the availability of hot water in our accommodation. We advise to use the water as wise as possible. We set a lamp dimmer at the room that can assist in adjusting lighting requirements and for energy efficiency. Our waste water is treated in our septic tank is gradually broken down and cleansed by the bacteria.  
  Did you know? Every year we lost 1 of our water resources in our Village, and lot water sources change in to seasonal water supplies. Climate change is a real thing and getting worst and worst every day. 
Lesong Hotel Family desires that a hotel would not only provide an authentic guest experience of Bali but also to be very green at the same time. While being environmentally aware and making every effort that counts
We delight to invite you to be agent of change. Small step will bring big of impact if we do full with awareness and commitment To this beautiful planet. This beautiful planet is home of everyone. 
Surrounded by the lush of rice terrace. Lesong Hotel and Restaurant is tucked away in the non-touristy area of Bali making it a truly unique destination. The accommodation is perfect for families, couples and small groups looking for the most authentic and sustainable experience. With family touch, and outdoor activities, the Lesong hotel and restaurant provides the perfect place to discover the unspoiled natural beauty of the island.
Spread knowledge and awareness to farmers.  Inspired and motivated the younger generation.  To meticulously select the best origin for great people and to be able to give back to the community.
Spread knowledge and awareness to locals also inspired and motivated the younger generation by doing charity & teaching.
We offer an authentic Balinese experience, incorporating local traditions, culture, and architecture into our hotel and services.
Our guests' comfort and satisfaction are our top priorities, and we aim to provide warm, friendly, and attentive service at all times.
We encourage our guests to explore the natural beauty and cultural richness of the surrounding area, and offer a range of adventurous activities
We aim to promote cultural exchange and learning, offering cooking classes, cultural tours, and opportunities to interact with local people and traditions.
We take hygiene and cleanliness seriously and follow strict protocols to ensure a safe and healthy environment for our guests and staff.